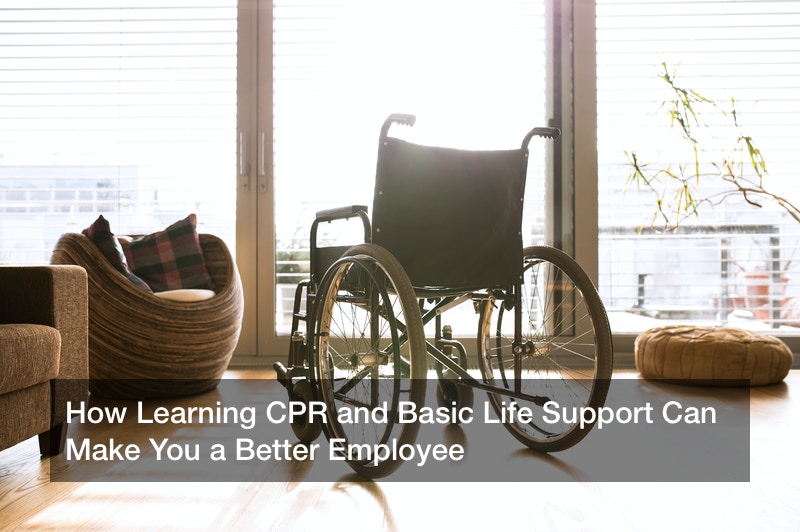 How Learning CPR and Basic Life Support Can Make You a Better Employee
How Learning CPR and Basic Life Support Can Make You a Better Employee

Carving out a career in the medical and healthcare industries can be one way of achieving a life that is rewarding and fulfilling in many ways. For many, the prospect of being able to help people lead better lives can be a cornerstone of a successful career. The healthcare industry is also known for providing excellent opportunities for growth and the development of new skills while also being rewarding financially. In a lot of cases, a number of creative and rewarding career options can be easy to neglect. However, with first aid training, CPR training, and basic life support classes, you can become equipped for a number of real-life scenarios that can call for your expert intervention.


One of the most important things to keep in mind while choosing the right career option is the fact that skills and technical knowledge that can be useful in crisis situations can have a lot of importance. Keeping this in mind, becoming more skilled in the handling of such situations can make you extremely useful in a number of industries. This is where BLS classes and CPR classes can definitely come in very handy as these are skills that can allow you to save lives in crisis situations. In a number of these training courses, you would be able to learn skills that can come in handy if you work in medical clinics, assisted living facilities, nursing homes, and dental clinics, among other places.


It is crucial to remember that in crisis situations, it is often the first response or the immediate intervention that can save lives. For example, the process of CPR works in maintaining the flow of blood to the organs in the body that really matter in case of emergencies like the brain and the heart. Administering CPR can be one of the best ways to increase the chances of survival of the victim of an accident of some kind. In fact, the chances of survival can drop significantly with every minute of delay. Similarly, BLS classes can teach you a number of basic life support skills that can really come in handy when you run into a situation where your intervention can mean the difference between life and death.


In BLS classes, you can get to learn a number of important skills. You would be able to learn the right way of correctly dealing with the victims of a number of different kinds of accidents and injuries. There can be a number of tools and techniques that can make this task easier and you would also need to learn about these and the right way of employing these. BLS classes can also provide you training to keep calm under tense situations so that you can go about doing your job properly without breaking down under pressure. When you come to know that your intervention can often keep people alive with their neurological function intact, you would definitely be able to understand and appreciate the importance of what you are learning.


The medical and healthcare fields are not the only places where your skills might be useful if you go in for BLS classes and CPR certifications. With the help of the right CPR training course, you would, in fact, be useful wherever you might work. If you work in the hospitality industry in businesses like hotels or restaurants, these skills can definitely come in handy when the need arises. If you couple the streaming with fire extinguisher training courses, you can become an even more useful employee to these establishments. A great way to go about this would be to find an institution or organization in your area that is well known for providing this kind of training and to sign up for the right courses.


With this kind of training, you can definitely become a lot more useful for your employers across various industries. This kind of training can also provide you with immense mental and psychological benefits that can help you deal with stressful situations with a lot more expertise. Overall, this training can really be instrumental in giving you a number of very important life skills.