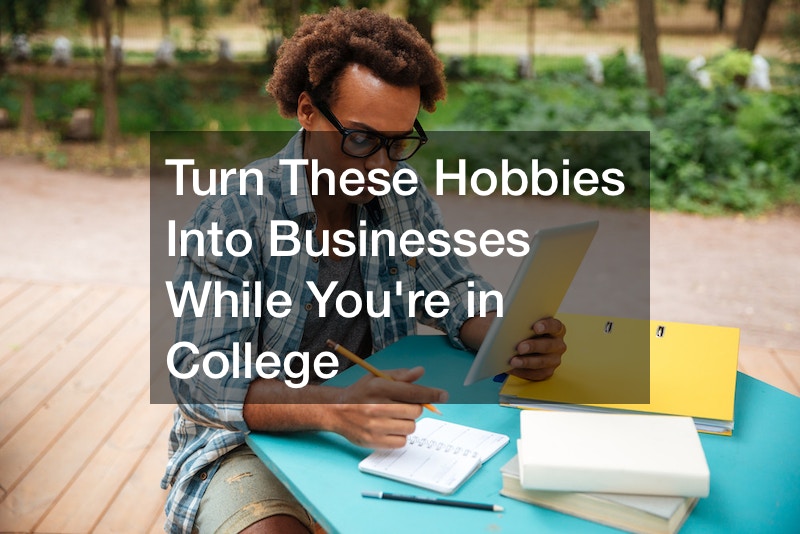 Turn These Hobbies Into Businesses While Youre in College
Turn These Hobbies Into Businesses While Youre in College

College is the best time of your life to show that you're dedicated to learning more about your chosen career field. While you're surviving college, it's also a great time for stretching your boundaries and finding new hobbies that you can enjoy for the rest of your life. If you've ever thought about merging your favorite hobbies with your business aspirations, then you need to learn more about which hobbies are best for business and how you can make the most out of them while also pursuing your college maturation.
Sticker Printing
As most people know, custom stickers of all kinds have ballooned in popularity over the past years. There are many reasons for this, from the explosion of easy-to-use printing technology to the demand for high-quality graphic design work. If you have any shred of passion for art, design, and the printing process, then creating your own stickers is a great way to turn your hobby into a profitable business.
When you do your part to prove that you're dedicated to learning more about how to print your own stickers, you will quickly start to see results that match your passion. By developing your skillet in this domain, there are endless options for monetization. You can reach out to local bands, artists, and other businesses that need high-definition stickers printed to help them advertise.
You should also consider taking your sticker business to the internet. By running ads on social media and websites you can quickly grow your business. Add even more clients by making short-form video content for apps like TikTok and Reels to increase both your reach and audience size. With a measured approach to your printing and marketing, you'll be in awe at how far you can take your custom sticker business while still working on your college degree.
Metal Art
Whether you're new to making art or you're experienced, exploring different materials is a great way to expand your artistic output. The same applies to a business model that can withstand economic changes. If you're a creative type, and you're still working on your college degree, then creating metal art is a great way to monetize your talents. In fact, commissioned metal art can be a lifelong source of income that also allows you to participate in a creative practice over the course of many years.
When you're dedicated to learning more about your craft, try exploring artists who work in the field. Often it's helpful to find some sources of inspiration in the realm of metal art, as this can jumpstart your next project. Turning these talents into a business is also quite lucrative, as working with metal requires a set of skills that many people in college simply do not possess. Setting yourself apart is a great way to make exciting art and build a profitable business over the long term.
When you pursue this type of business, you'll need to be sure that you have the proper partnerships in place. If you're just getting started with metal art, then speaking to a metal fabrication company can give you a perspective that will help to restore your confidence and abilities. The right company can help guide your decisions and even inspire ideas for new projects and business ventures in the industry.
Custom Signs
Any college student dedicated to learning knows how important marketing and advertising are to the immediate and long-term growth of a business. Signs are a major part of any business plan when it comes to spreading the word, so if you're able to make quality signs, you have a bright future ahead of you. While working on your degree, you may also want to leverage sign creation to create a thriving business for yourself.
Working on all kinds of custom signs is a great way to break into different industries, but specialization is also a popular method for gaining and maintaining lucrative client relationships. For example, a small business will need an interior sign to direct customers, so working in this domain can yield consistent business for you as you work on your college degree.
If you're dedicated to learning more about the different types of custom signs, then there's nearly no end to the kinds of designs you can create for your clients. When searching for inspiration, try not to exclude any certain domain of signage. For example, something like an antique sign can give you a host of ideas for your own business. Being able to draw from different sources and create something new is an excellent way to forge ahead with a custom sign business.
Personalized Jewelry
College students with a passion for jewelry will be happy to know that the business opportunities in the space are vast. There are several different avenues for a college student to pursue, from custom engagement rings to unique necklaces. The benefit of starting a custom jewelry business in college is that you can do it without having to invest too much money or time at the beginning. This makes it the perfect business model for someone who is also working on studying every day.
If you approach your jewelry business like your college degree and stay dedicated to learning everything you can about the space, you'll find it easier to discover your niche. Your niche is your unique place in the market; in short, it's what will help to set you apart from the competition. While starting a custom jewelry business comes with relatively low startup costs, that doesn't the market is free of competition. Working to define your unique niche will differentiate you from the competition and help you obtain customers who will stick with your brand for the long haul.
After developing a niche, you can start to think about what type of customer you would like to pursue. Are you looking for young artsy types who want lots of colorful stones in their jewelry? Or are you looking to appeal to a classier, more minimalist sensibility? Defining these kinds of details will help you carve out your space and market to the right people. After all, without a plan for your target demographic, it won't matter how hard you work, as the right people will not be exposed to your custom jewelry pieces.
Marketing is very crucial when it comes to the jewelry industry. Make sure you emphasize this domain, as it can be the difference maker in the rest of your business. Using online tools is one of the best ways to make sure you market your business to the ideal demographic. It's not a bad idea to educate yourself on social media marketing and online advertising as part of your business pursuits. With the right approach to craftsmanship and marketing, a custom jewelry business is a great way to earn money on the side as you pursue a college degree.
Pet Boarding
Like any other type of business, starting a pet boarding business while pursuing a college degree requires careful planning and time management. You should always begin by conducting thorough research on the pet care industry, local market demand, and potential competitors, as this will illuminate your key challenges and help you overcome them. From here you can get to work as you develop a detailed business plan outlining your services, target market, pricing strategy, and marketing approach.
Since you'll be balancing your business with your college studies, consider implementing a flexible business model that allows you to manage your schedule without adding any extra stress to your life. Remember, making sure you pass your exams and staying dedicated to learning should be your main priority once you're enrolled in a college program. A pet boarding business is a great way to monetize a passion for animals, but it can also be time-consuming, so be sure to achieve the proper balance between school and work.
There are many types of boarding businesses you can open, and each model brings its own set of unique details to consider. For example, a business that focuses on cat boarding will have a very different set of considerations than one that is focused on caring for dogs and larger animals. Be sure to take this into account as you explore partnerships with local veterinarians or pet-related businesses to expand your network and enhance your outreach. Balancing academics and entrepreneurship requires discipline, but with strategic planning and dedication, you can create a thriving pet care business while completing your college degree.
Cosmetics
The cosmetic market is one of the most popular domains for new business, especially among those who are in college. There are plenty of strong reasons behind this, as college students are always looking for ways to look their best, whether it's with the latest clothing trends, skincare, or by getting manicures. If you're able to capitalize on these kinds of details, then you'll quickly see just how profitable you can be with a cosmetics business, even while you're still going after your college degree.
When you're still dedicated to learning everything you can about your chosen field of study, then starting a business in the cosmetics world is a welcome addition. However, you want to be sure that you're not giving too much time to one venture over the other. Finding balance is key, which is why cosmetics is a great sector in which you can start your entrepreneurship journey. A cosmetics business can start small, as most of the largest ones do, and it can certainly accommodate a busy college schedule.
As you set out to begin your business, try to first develop a unique selling proposition that sets your cosmetics brand apart, whether it's through innovative formulations, cruelty-free products, or sustainable packaging. Once you know what sets you apart, you can focus on creating a comprehensive business plan outlining your brand identity, product line, pricing strategy, and marketing plan. These steps cannot be skipped, especially if you aim to grow your cosmetics business over time.
You'll also want to be certain that your marketing efforts match your production, as this can have a major impact on your overall success and longevity in the marketplace. Be sure to leverage social media platforms and e-commerce channels to build an online presence and engage with potential customers. The right mix of personality and branding can help you excel when starting a cosmetics business.
But Before You Start, Do Your Research
Just as you're dedicated to learning as you work on your college degree, your business ventures also require a similar level of dedication. Many business owners, especially young ones, make the common mistake of rushing into the creation of their business. If you want the best chances of success, then you'll want to do plenty of research before you start your business.
Knowing where you stand regarding your industry, your budget, and your relationships with commissioning services and the other arms of your business will put you steps ahead of those who charge in without a plan. A solid structure will take some time, but it can be the thing that helps you set the proper tone as you build your business. Without research, you're merely throwing darts at a board while wearing a blindfold.
You can do a lot of your business research alone, but some tasks may require some help. In these cases, don't be scared to consult with quantitative market research companies to help you obtain the information you need on your market. They can give you resources that will give you a competitive edge before you even enter the market.
Building a business related to your hobbies while also showing you're dedicated to learning is not impossible while pursuing a college degree. Making sure that you balance both your passions and your college education is key, so put the right systems in place before you take on too much. By learning more about turning your hobbies into business ventures you can strengthen your career prospects and make the most of your college experience in all facets.