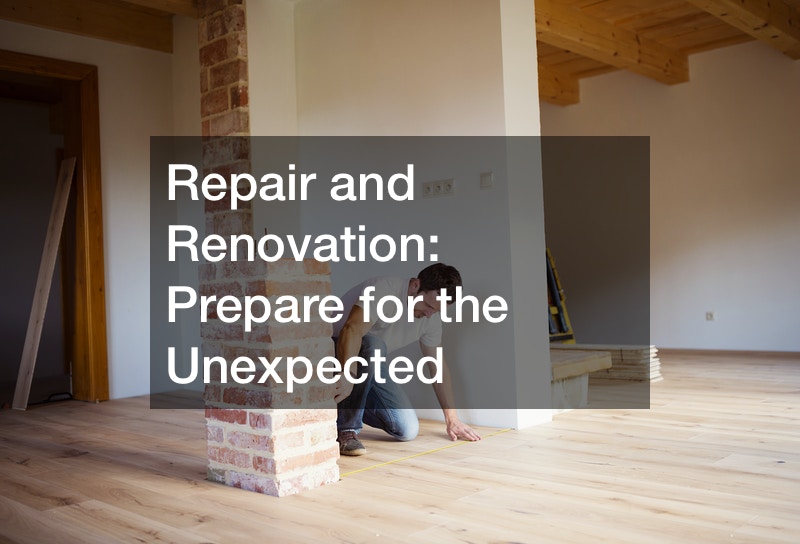 Repair and Renovation: Prepare for the Unexpected
Repair and Renovation: Prepare for the Unexpected

Various trends have redefined home renovation, from making bathrooms private sanctuaries to embracing open floor plans and personalized primary bedrooms. These trends have also encouraged many people to undertake renovation projects, hoping to enhance the value of their properties. Therefore, most people want to know the project's cost, allowing them to work within their preferred budget. Sadly, they forget various unforeseen happenings, including the following.
Unforeseen Happenings on the Construction Site
While you expect a smooth construction project, various occurrences on the construction site could happen unexpectedly. Some of these happenings might significantly derail the project, especially if you are not ready to tackle them. You'll need to prepare for the following prevalent occurrences when renovating your home.
Significant Water Damage
Water damage is a severe issue that could potentially derail your renovation project. Depending on its severity, this problem could cause significant headaches in the long run. Unfortunately, you might not discover how widespread the problem is until you start the project. Often, water damage begins with roof leaks, going undetected until the water gets through the ceiling.
This water damage could also arise from faulty plumbing, including faulty, broken, or leaky pipes. You can notice this problem by carefully tracing where the lines are laid. However, be extra careful, as this could be sneaky.
The effects of water damage are drastic. For instance, expect widespread molds and mildew around certain parts of the house. Addressing mold and mildew can be challenging, exposing you to unexpected financial expenses.
This water damage could also expose your family and workers to various health complications. The issue could worsen if most of these members suffer some allergies.
Remember, water damage could happen before and during the project. A local plumbing expert could help handle this issue, especially if the problem is with the plumbing system. This professional will establish the source of the problem, addressing it once.
Various approaches could also come in handy when dealing with water damage. They will include the following.
Focus on the drainage: Engage a professional to inspect and maintain proper drainage during the renovation project. This plumber could check the pipes regularly, ensuring that everything is working correctly. It will also allow them to avert significant water damage on time.
The sump pump is critical: A functional sump pump will minimize flooding on your property, protecting you against water damage. A battery-operated sup pump is an excellent choice in a home prone to blackouts.
Confirm your pipes: Inspect your pipes to determine their health. Stains, dark spots, and dripping water are a sign of leaky pipes. In such instances, let a plumber handle the problem balloons.
Check the exterior siding: Your exterior siding should be in great shape so as not to allow water into the building. Ensure that you repair it on time, protecting yourself from water damage.
Foundation Cracks
Foundation cracks are common during renovation projects. Yet, this could be your worst nightmare during the project. You can diagnose this problem by cracks appearing on the walls, floors, or entryways. You could attribute this problem to various aspects: type of cement, house grading, and significant water damage.
Significant foundation cracks affect the structural integrity of your building. That means you'll need to address the issue as soon as possible. This foundation could also succumb to the pressure exerted by the weight of the house and the earth underneath.
You'll need a reputable structural engineer to inspect the extent of this foundation crack. This professional will also provide insights into what to expect, including measures to address the problem. For instance, an expert could use steel braces to bolt and stabilize this foundation. However, in extreme cases, you might need an entirely new foundation.
Outdated Plumbing and Electrical Systems
Plumbing and electrical work often follow a specific code of regulations. That means you'll need to comply with new rules when renovating your home. Unfortunately, the plumbing and electrical work could be so outdated that they do not match the current compliance regulations. In this case, you might need to install new electrical and plumbing systems.
For instance, suppose your home has old, galvanized plumbing pipes. These pipes are susceptible to corrosion and clogging, leaking, and corrosion. In this case, you will need to replace the plumbing pipes with much newer and modern ones. Whether you consider PVC, copper, or CPVC, you'll need to comply with today's best options.
At the same time, the existing wiring system must comfortably handle your residential demands. For instance, if you have modern appliances, this system should comfortably support the devices. The wiring system should also comply with the set electrical work regulations.
Hazardous and Unsafe Materials
Different construction materials have existed over the years. However, some of these materials have proven unsafe over the years. For instance, asbestos and lead were popular in the previous century. Yet, today, they have proven dangerous. For this reason, you might need to engage a lead inspection company to determine whether your house has asbestos and lead in its drywall, siding, or roofing.
Code Violations
Sometimes, you might violate various codes of regulations. Breaking these codes will significantly derail your renovation project. In extreme cases, you might need to abandon the entire project altogether.
Notably, building codes evolve. That means you'll need to update yourself more regularly, ensuring that you are protected against lawsuits. Every time the regulations evolve, you will expect a higher building standard.
To be safe, ensure that you check the codes before starting your project. Incorporate the new regulations during the planning and design phases. This way, it becomes much easier to avoid unwanted costs in the long run. Professionals will help; for instance, your roof replacement services will happen per the current regulations.
Previous Defective or Poor Renovations
Not all building contractors provide you with premium-quality services. For this reason, you might find concealed defective work. That means you will need to address the defects on time. Otherwise, it will be challenging to continue with your project. As long as these issues present safety issues, it would be best to get a professional to handle them.
Pests
Handling pests can be a nightmare for most people. Yet, pests could attack your home during the renovation, forcing you to consider different residential pest control measures. You might need to involve a professional exterminator to remove some of these pets. Remember, these pest control services might cost you a fortune. That means you will need enough money to deal with the problem on time.
How to Manage Unforeseen Occurrences
Various aspects go into managing multiple unforeseen occurrences without an issue. The following are the steps you should take in this pursuit.
Get the experts early: Getting professionals early will help you avert many issues. These experts will inspect your property, identifying problems beforehand. This move will significantly cut your expenses in the long run.
Be flexible: Enhanced adaptability will often make your project much more effortless. Staying positive will allow you to accept various outcomes, adjusting accordingly.
Wiggle your budget: Have room for adjustment in your budget. With enough money for adjustments, you can handle all these unexpected and miscellaneous expenditures.
Unexpected Costs During Renovation
There is a high chance of having a specific budget in mind when starting your renovation project. Yet, some expenses could crop up, and unexpectedly so. Some of the general costs or expenses you might overlook when planning your renovation include the following.
Permits and Insurance Costs
Planning a renovation project considers various aspects, including trends and the materials you want to use. Unfortunately, most people ignore, overlook or forget to include the cost of acquiring permits and insurance cover. These permits and insurance cover are vital in facilitating the process. Unless you get them, your project might stall.
The cost of acquiring permits will vary from one state to another. In some cases, the price could go as high as $2000. Reaching out to your local authorities will help you understand how much you should spend to get relevant certifications. This government will also break down the various licenses you will need during the renovation process.
A standard home insurance cover is necessary during a home renovation. If you already have this cover, there will be no need to get a new policy. However, you might need to get an additional policy if your renovation project aims to increase the property value. You could attribute this to the increased liability, meaning you will be undervalued if you stick to the current policy.
Dining and Short-Term Renting
You'll need to stay away from your home, albeit temporarily, during the renovation. It will cost you a significant amount to do so. Whether you stay away for a day or a week, including all the hotel expenses, when the budgeting will be fair.
In certain instances, you could consider scaffold renting. Scaffold rentals are temporary structures outside your home. These structures aim at providing workers and contractors support whenever they want to access high parts of the building. While this is not part of house-renting, it is a rental facility that will help facilitate the renovation project.
You might also need to dine out when parts of the house are painted or under construction. Unfortunately, the costs associated with dining out are often overlooked. Ensure that you cover these expenses right from the onset.
Cleaning
The renovation project's disposal of debris and dirt might seem a small venture. Yet, this cleaning could significantly drain you, thanks to the high cost involved. Expect to spend between $250 and $700 when removing the debris from the renovation project. Various materials are discarded: concrete, drywall, and cinder blocks.
Perhaps you just finished fixing your granite countertop. The debris collected from the installation might not be much. However, cumulatively, this debris could be so much to handle with the other installations. You might need a professional to help with eliminating such dirt and debris with items such as grease trap cleaner.
Installing Appliances
Renovation focuses on constructing and redefining your space. You are more likely to pay attention to trends and buy new stuff for the room. However, installing new or even current appliances might not cross your mind. Whether or not it is minor, this installation will cost you a significant amount.
Various appliances might require electrical services from a qualified electrician. This professional will help wire and install the items correctly, assuring enhanced safety. Any device that needs complex wiring will cost you a more considerable sum. At the same time, some machines might need plumbing services, exposing you to a higher amount in the long run.
Most people overlook the cost of installing such appliances. Sadly, the installation costs could be so high, draining your budget in the long run.
Fixing Old Workarounds and the Finishing Touches
As mentioned, you might get various patchworks during renovations. These old works might be outdated, compromising the structural integrity of your building. Some systems might also be less compliant with today's regulations. You'll need enough money to work around the patchwork in all these instances.
The cost of the workaround will vary with the extent of the patchwork. Any previous works that seem significantly shoddy might require everything done afresh. In such a case, you will have to spend a considerable amount to correct the mess.
In addition, you will need to pay for the finishing touches on your current renovations. Most people do not include the cost of finishing the project. Remember, you will need various items, including new drapes, blinds, and new art. You might also need decorative items to make your home look more appealing. However, there is a chance that you will forget to budget for all these beforehand.
Who Will Take Care of Your Pet or Child?
Taking care of your child and pet during the renovation is essential. Since you'll be busy, you will need a professional for animal control. This professional will charge you a significant amount. Yet, you might forget to include this cost when planning the project.
In conclusion, people are often blind to various small items during renovation projects. Yet, cumulatively, these elements put a significant dent in their finances. Taking care of all these elements in a timely manner will help to avoid complications.